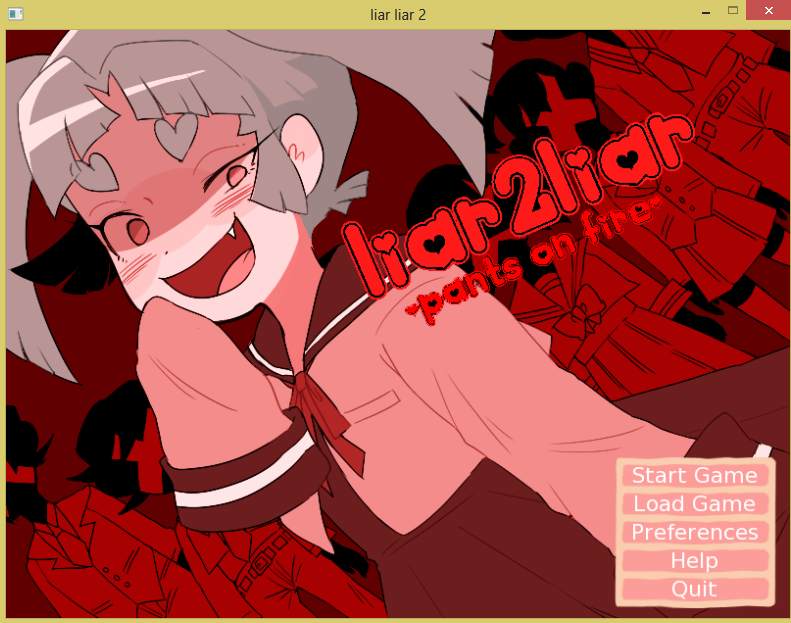 Liar Liar 2
A downloadable game for Windows, macOS, and Linux
The sequel to my first game Liar Liar : Liar Liar 2: Pants on Fire
Continues one year after the game left off, Yukari and Miho are now high schoolers, who are now dating and spend their leisure time together holding hands, kissing, and murdering the occasional boy or two. On one day just like any other, a new transfer student arrives to Yukari's school. It's Koshi Tanaka! But wasn't he dead? Apparently not. The goal of the game is to figure out the mysterious circumstances of Tanaka's revival and most importantly, staying alive.
Trigger Warnings: Blood and Gore (an example of one depicted above), Violence (a majority of it is implied, but include, forced amputation, implied torture, throat slashing, and stabbing) mentions of stalking, eye strain (like the first game it is fairly bright), sudden noises and the screen shakes occasionally
I worked on this with a strict deadline of a week as opposed to five days this time, and I'm proud to say it's much longer. The true route should take you around 20-30 minutes to complete! Unfortunately, the story is pretty predictable (and cheesy too haha) and quite linear, there are probably a bunch of things left unexplained and a lot of stuff I wanted to include (that didn't make the final cut) I have learned my lesson I will probably write out the script instead of making stuff up as I go next time haha. I hope you guys have as much fun playing it as I had fun making it!